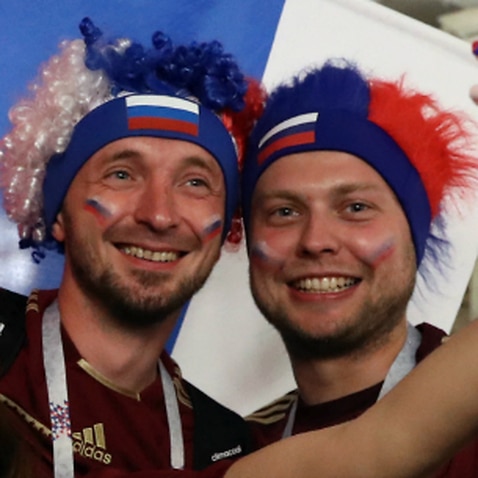 Both Vukojevic and the 29-year-old Vida previously played for Ukrainian club Dynamo Kiev.
Vida, who scored in the match against Russia - which ended 2-2 after extra time - and netted in the resulting penalty shootout, later said of his comment in quotes reported by Russian outlet Championat: "I respect the Russian nation".
Vida is free to play for Croatia in the semi-final against England after his involvement in the "glory to Ukraine" video.
Federation Internationale de Football Association warned Vida over his conduct after he and former Croatia worldwide Ognjen Vukojevic appeared in a video after the quarter-final shootout victory over hosts Russia.
Fanatik report that Liverpool offered €18m for the Croatian centre-back, who has excelled at this summer's World Cup alongside Liverpool's own Dejan Lovren to help Croatia reach the semi-finals of the tournament.
"I am happy to speak the Russian language, I enjoy Russian hospitality at the 2018 World Cup and I sincerely hope that this message will not be understood as anything else but an expression of gratitude to our friends in Ukraine for their support - not in the match against Russia, but during the entire World Cup".
More news: When is Amazon Prime Day 2018? Longer than ever on July 16
Besides firing Vida, it also issued an apology for the video.
"The Croatian Football Federation (HNS) has made a decision to revoke Vukojevic's team accreditation at the FIFA World Cup and to relieve him of his duties as an observer for the Croatian national team, " Croatia Football Federation said according to the Independent UK.
Federation Internationale de Football Association rules bar players from making political gestures at the World Cup and the governing body gave Vida a formal warning on Sunday (NZT Monday), but did not impose a match sanction for their semifinal against England. Football is outside politics.
According to Russian outlet Sport Express (h/t The Independent), he denied the intention to make a political statement and said: "There's no politics in football".
"My statements were truly not meant to have any political connotations, and my only intention was to thank my friends in Ukraine for their support, and to thank my club, Dynamo Kiev, for permitting me to participate at the World Cup". The Croatian Football Federation also warned him.
Vukojevic, 34, made 55 appearances for Croatia between 2007 and 2014. Earlier, FIFA fined but did not suspend two Swiss players for celebrating goals by making a gesture in the sign of a double-headed eagle - a symbol of Albania.