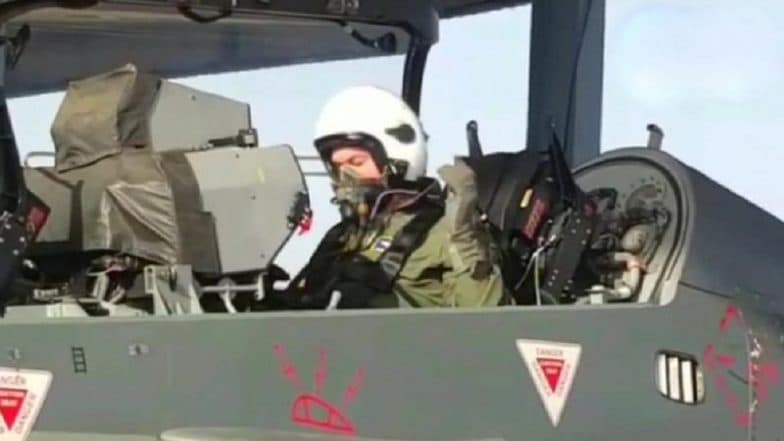 In the report, Indias Quest for Fighter Jets: Make in India vs Make America Great Again, it said Chinas bellicose incursions in the Indo-Pacific region are challenging U.S. geostrategic supremacy in the region.
Meanwhile, the Indian Defence Ministry announced on Friday that an all-encompassing coordinated and composite exercise will be held by the Indian Air Force from April 8-22 to test coordination, deployment and employment of air power in a short and intense battle scenario.
In an effort to bolster the dwindling fighter aircraft fleet, the Defence Ministry on Friday floated a global tender or request for information (RFI) for 110 jets.
At least 85 per cent of the aircraft will have to be made in India while 15 per cent of them can be in flyaway condition.
According to Air Force sources, manufacturers such as Lockheed Martin and Boeing of the United States, Dassault of France, SAAB of Sweden, European consortium Eurofighter and MiG of Russian Federation are expected to compete.
Earlier the Indian government was mulling over procuring single engine aircrafts F-16 Block 70 and Swedish company SAAB's Gripen, but according to reports published in Reuters, the government had asked the IAF to consider twin engine aircraft Boeing's F/A - 18 Super Hornet.
More news: Stocks open lower as trade jitters persist
The said deal is expected to cost more than Rs. 100,000 crores or United States dollars 15 billion. The aircraft should be capable of operating during daytime and nighttime and take on multi-combat roles such as reconnaissance, maritime and air defence, according to the RFI. With talks stalling over price and quality guarantees, New Delhi scrapped the purchase in 2015.
The IAF has been pressing for expediting the process to acquire the aircraft citing declining strength of its fighter squadron as some of the ageing jets are being phased out. The deal will be with the government's Make in India initiative.
The IAF that is operating with only 33 fighter squadrons against the sanctioned strength of 42 will be further reduced to only 16 by 2032 and 19 by 2027.
The F-16s and the F/A-18 Super Hornets manufactured in India would not be sold to the U.S., it said. The force is thus in desperate need to replace its aging fighters as well as fill in for the numbers that were to be plugged by 126 Medium Multi-role Combat Aircraft- of which only 36 Rafales have been ordered.
Instead, Modi's government in September 2016 purchased 36 ready-to-fly nuclear-capable Rafale fighter jets directly from the French government.