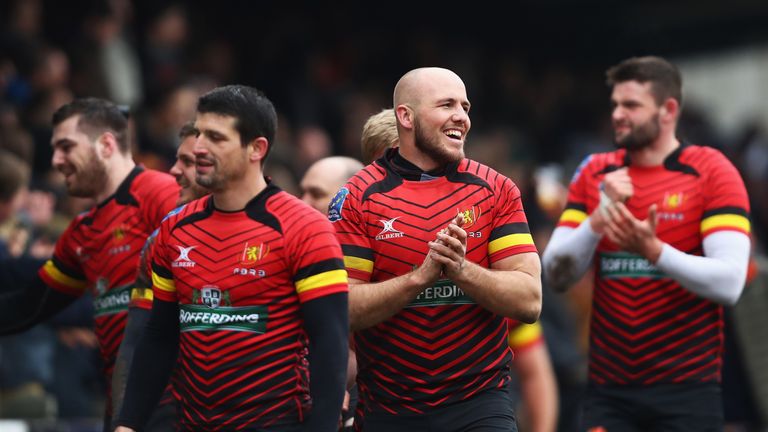 Interestingly the game was refereed by a Romanian official, Vlad Iordăchescu who the Spanish players felt adjudicated them unfairly throughout the game.
Spain's defeat meant it was the referee's home nation Romania (and not them) who secured direct passage to the finals in Japan.
World Rugby has sought clarification from its European counterparts over Sunday's controversial match between Belgium and Spain, which sparked furious debate about the impartiality of officiating.
The Spanish Rugby Federation has said it will file a complaint to tournament organiser Rugby Europe about the refereeing, and request video of the match be analysed to check if decisions were "deliberately partial to favour the interests of Romania".
They next face Portugal with the victor going on to play Samoa in a two-legged play-off for a ticket to join hosts Japan, Grand Slam champions Ireland, Scotland, and the Romanians in Pool A. Defeat, however, sent them into a repechage play-off, with Romania qualifying instead.
World Rugby is looking into the appointment of a Romanian referee for a crucial match between Spain and Belgium that determined whether Romania qualified for the 2019 Rugby World Cup.
More news: Poland to host U-20 football World Cup in 2019
Santiago Santos, head coach of Spain, vented his anger towards the way the match was conducted, questioning the calls and neutrality of the referee, which ultimately proved pivotal.
One or two players attempted to grab the referee at one point, who then had to be escorted off the pitch.
"Referees' appointments for the Rugby Europe Championship have been made ahead of the competition by an independent and neutral skilled committee", it said.
"It would be inappropriate to comment on match official performance before the usual full review has been undertaken". Its agenda will be modified and a large portion of the meeting will be devoted to the analysis of every stage of the Belgium v Spain game. "He gave 10 penalties against us, the result comes from that".
"I want to play a solid opening game and seal that victory", Japan back Harumichi Tatekawa said Monday after returning from South Africa with Super Rugby's Sunwolves.