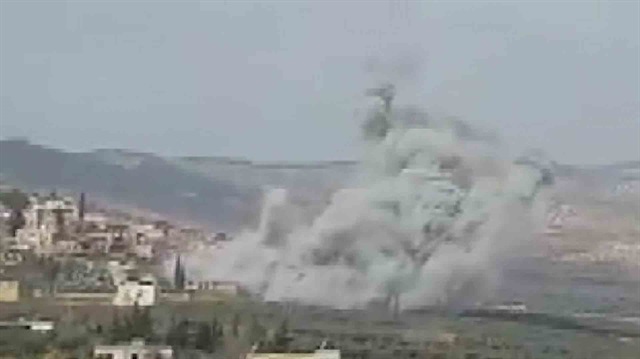 Nearly 600 people are believed to have been killed and more than 2,000 injured since Syrian government forces launched an air and ground offensive on Eastern Ghouta on February 18, according to the United Nations.
The rebels fired on the corridor between the town of Mlaiha and the rebel-held Jisreen area in Eastern Ghouta, said the report. This report shows the desperate struggles of three families living under the siege.
The government firmly denies this.
Contacts have been fruitless so far, perhaps, due to the large number of fighters or because they may have believed the army would not mount an all-out offensive while troops were engaged on other fronts. Rebel-held areas of the Ghouta region were hit in a major chemical attack in 2013.
In military terms, that meant the territory had been bisected, the commander told Reuters.
In addition to the dead, MSF Director of Analysis Jonathan Whittal told CNN on Friday that medical facilities supported by the humanitarian organization received an average of 344 wounded people every day in Eastern Ghouta in the same time period.
More news: Saudi crown prince welcomed in London amid rights activists protests
Russian Federation has offered rebels and their families safe passage out of Eastern Ghouta, promising to protect insurgents from prosecution, Russia's Defense Ministry said Tuesday in a Facebook post.
A UN-passed resolution calling for a 30-day ceasefire across Syria was the target of Turkey's President Recep Tayyip Erdogan on Tuesday, due to Syrian government forces' disregard of the truce in their continued attacks on Ghouta, saying, "God curse your resolution".
"Nothing is secure and battles are raging and it's hard to predict what will happen", the fighter, who gave his name as Abu Ahmad al-Doumani, said in a text message to Reuters.
Regime forces were on Thursday battering the rebel enclave with air strikes that killed dozens, in defiance of United Nations calls for a halt to violence. "The bombing eased for a bit and is no longer intense", said Bilal Abu Salah, a resident of Douma.
Jan Egeland says it is "impossible" to cross into the frontline and deliver aid to people "we know are on the starvation point" because of the current fighting, which he describes as possibly the worst ever in the besieged Damascus suburb.
The convoy was carrying food that could not be offloaded on Monday when fighting forced an earlier delivery to leave early, and the latest shelling came despite safety assurances, United Nations resident coordinator Ali al-Za'tari said. "People have grown exhausted of militants' lawlessness, they complain of unbearable conditions and are ready to leave the de-escalation zone even bypassing the established humanitarian corridor", he added.