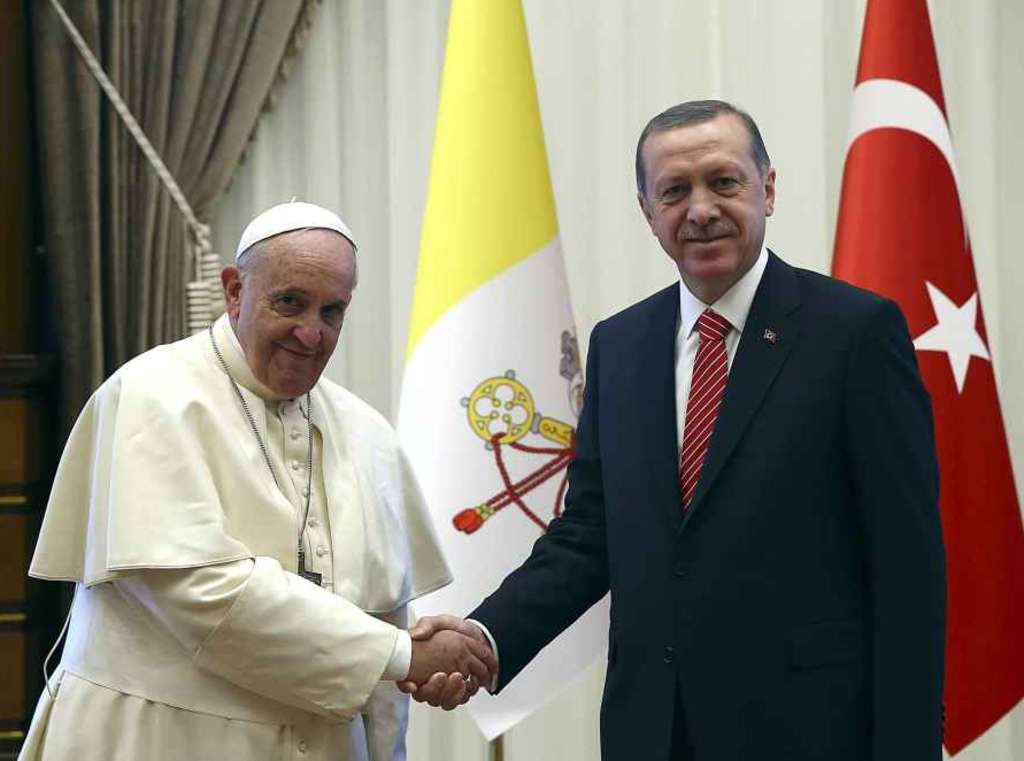 Pope Francis met with the President of Turkey, Recep Tayyip Erdogan, and his entourage on Monday at a private audience in the Vatican's Apostolic Palace.
On his departure, Erdogan said he planned to discuss the humanitarian situation in Syria, the battle against terrorism, Islamophobia, and the status of the city of Jerusalem.
The same topics were brought up during Erdogan's separate meeting with Cardinal Pietro Parolin, Vatican secretary of state, and Archbishop Paul Gallagher, Vatican foreign minister.
Sound Off! CatholicCulture.org supporters weigh in.
According to Rai News, the meeting lasted almost an hour.
More news: Syria denies US claims it used chemical weapons against rebel-held areas
The Holy See says that both agreed on the need to promote peace in the Middle East through dialogue and negotiation, with respect for human rights and worldwide law.
Francis and Erdogan last met in 2014 during the pope's visit to Turkey.
Pope Francis gave the president a medal representing peace. The Pope later hosted Chaldean Church leadership including Patriarch Sako. While in Istanbul the pope acknowledged that current global crises had made Muslims vulnerable to being stigmatized. The aim of the operation is to eliminate terror threats along Turkey's border with Syria, which have been a consisting threat to Turkey's national security.
It was a gift that issued an implicit message: the pugnacious Turkish leader who has dominated the political landscape of his country for more than 15 years should build peace in the Middle East thought negotiated political settlements rather than military action.
"This is the angel of peace who strangles the demon of war", the pope told Erdogan as he gave him the medallion, made by the Italian artist Guido Verol."(It is) a symbol of a world based on peace an justice. Rome also issued a 24-hour ban on demonstrations.