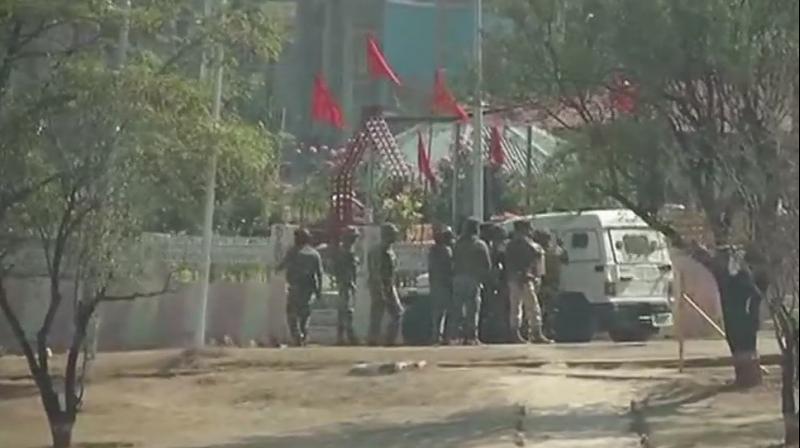 Two terrorists have been killed. The state police, Central Reserve Police Force (CRPF) and the Indian Army have been asked to be extra vigilant to thwart any terror attack.
Tuesday's attack came a day after Indian soldiers killed five suspected militants near the heavily militarised Line of Control (LoC) that divides the territory with Pakistan. One security personnel has been martyred.
Police meanwhile said that the stranded outstation passengers have been allowed to proceed towards Airport but did not give any details about flight operations.
The airport, which was initially cordoned off, was re-opened for civilians flying out of Srinagar. "A group of 2-3 militants carried out an attack at the BSF camp of the 182 battalion BSF headquarters near Srinagar airport of Hamaama district, Budgam". The particular battalion handles the security of runway at the airport.
Reports said that three armed militants managed to sneak into highly fortified BSF camp at Humhama at around 4:15 in the morning.
More news: Clown shot woman in face while holding balloons in 'love triangle killing'
The three Jaish-e-Muhammad militants who attacked the Border Security Force camp here on Tuesday is believed to have been in the city for around a month after infiltrating from Pakistan.
IGP Khan said such attacks will not end.
The three BSF jawans were injured at the beginning of the attack and one militant killed in the retaliatory fire, PTI reported a police official as saying.
Apart from the Srinagar International Airport, the only other strategically important airport in Kashmir is the Koil airport in Pulwama, which unlike the Srinagar airport has much heavy security arrangements. A BSF officer whom police identified as S.K Yadav succumbed to his injuries in the hospital.
"Two militants have been neutralised and we are searching for the third one", Munir Khan, Kashmir police chief, told Al Jazeera.