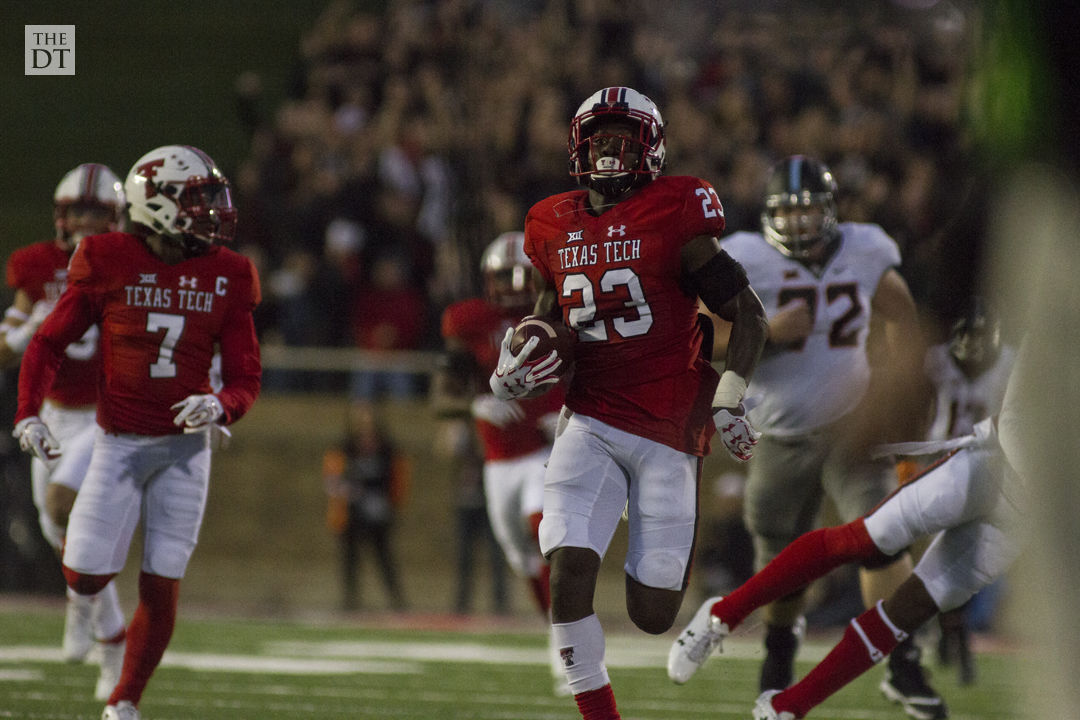 Now, let's take a look at three takeaways from the Oklahoma State win over the Texas Tech Red Raiders in Week 5.
Oklahoma State flirted with disaster all night.
No. 14 Oklahoma State was brought back down to earth last week by TCU after three impressive early-season wins had Cowboys fans dreaming of a Big 12 title and possible berth in the College Football Playoff.
Their momentum was stunted as quarterback Nic Shimonek made an ill-advised throw on a screen pass while escaping pressure, and Oklahoma State notched their first turnover of the game with the interception.
The Cowboys have suffered a loss on the year, and will be looking to right the ship against the Red Raiders, who they've beaten eight times in a row.
Oklahoma State held the Red Raiders (3-1, 0-1) to 384 yards, about 200 yards below the third-best average in the county coming in, and stopped Texas Tech after Matt Ammendola missed an 18-yard field goal that would have given the Cowboys the lead with 5:30 remaining.
Mike Yurcich, Oklahoma State's offensive coordinator, said the difference he sees is that the Red Raiders have simplified things, allowing players to "play with less hesitation".
More news: Air France A380 Lands Safely After Engine Blows to Pieces in Flight
For Oklahoma State, senior quarterback Mason Rudolph threw for 376 yards, three touchdowns and one interception.
On its next possession, though, Tech's Desmond Nisby bulldozed into the end zone to tie the game with just under 10 minutes to play.
OSU took the lead on their next possession, with Rudolph scrambling and finding Jalen McCleskey wide open in the back of the end zone for a 4-yard touchdown to make it 21-14 Cowboys with 3:49 to play in the first half.
Devin Harper blocked the punt by Dominic Panazzolo, with the ball going out of bounds at the Tech 9-yard line.
Oklahoma State drove the length of the field but was forced to settle for a field goal attempt after Rudolph was stuffed on third and goal from inside the five-yard line. With the game tied at 34-34, Oklahoma State quarterback scored a touchdown on a 16-yard run that gave the Cowboys the lead with 1:12 left.
Texas Tech: A win likely would have meant the Red Raiders' return to the poll for the first time since Kliff Kingsbury's first season in 2013, when they started 7-0. The Cowboys extended their lead with a 27-yard field goal, making it a 34-20 game to the end of the third quarter. They consistently rolled down the field with little resistance, finishing every first half drive in the red zone. However, the Red Raiders were not able to capitalize on the recovery.
"We lost. It doesn't feel good at all", Shimonek said.