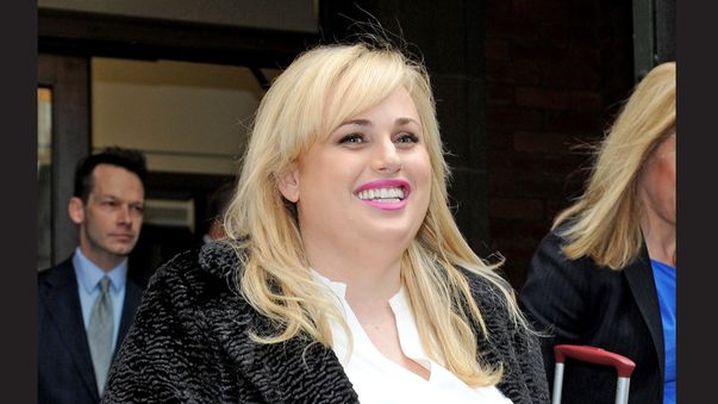 Rebel Wilson wiped away tears as she took to the witness stand in her defamation trial on Tuesday (23May17).
The Supreme Court heard on Monday a Woman's Day article - titled "Just who is the REAL Rebel?" - was the first of eight over a three-day campaign to paint her as a serial liar who invented stories.
She claims that after the 2015 "campaign", she was sacked from a number of movie roles, work offers dried up, and that she suffered physically and emotionally.
Rebel Wilson walks from the Supreme Court after day one of her defamation trial against Bauer Media.
The articles claimed Wilson had been dishonest about her age, name and childhood.
She also argued the articles told the truth, following an interview by the Walkley award-winning journalist Caroline Overington who claimed Wilson lied to her about her age.
The actress said she was nicknamed Rebel and in 2002 chose to legally change her name to Rebel Elizabeth Melanie Wilson, taking her mother's maiden name after her parents separated.
A series of articles published to coincide with the release of global smash hit Pitch Perfect 2 in May 2015 left the expat Aussie jobless and unable to land a film role.
Actor Hugh Sheridan, as well as Ms Wilson and her family, are expected to give evidence during the trial.
More news: West Ham ace Lanzini hails 'amazing' win
According to courtroom reports, Wilson is saying that she was sacked from at least two movies and has been unable to find work since Bauer's campaign of eight articles was published back in 2015.
She says Bauer Media damaged her reputation by printing articles alleging she had used a fake name, claimed she was 29 when in fact she was 36, and had lied about her background - all in the name of boosting circulation, he alleged.
The hearing, before Justice John Dixon, continues.
Wilson returned to Australia and chose to become an actress after finishing an arts-law degree at the University of New South Wales.
He said she was sacked from two films, Trolls and Kung Fu Panda 3, and unable to secure future work.
Dr Collins said the articles "tore down an Australian star in order to sell magazines".
"It's not lucrative", she told the court.
She was so sick she felt like she'd contracted a "voodoo disease" and was disconnected from her body, the court heard.